Lotus Notes ReCon Sidebar Plugin Update Site
This is the
Update Site
for installing the ReCon Sidebar plugin for the Lotus Notes 8.x Standard client, written by
Julian Robichaux
at
SNAPPS
. When installed in the Notes 8 client sidebar, this plugin allows you to send console commands to a specified server. For example: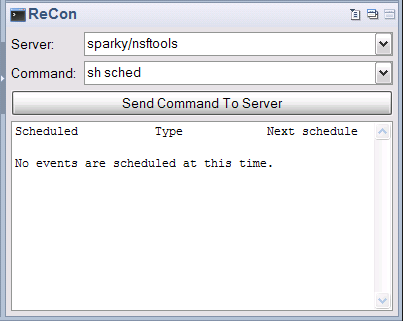 How To Install This Sidebar Plugin
This plugin has been tested on Lotus Notes 8.0.1, 8.0.2, and 8.5. Installation instructions for these client versions (8.0.1 or higher) are as follows:
From the Lotus Notes 8 Standard client (the Eclipse-based one), select the menu option File > Preferences > Widgets. Make sure the option for is checked.


Open the Sidebar in the Notes client and expand the "My Widgets" panel.


Download this file to your computer: recon_widget_install.xml. Then drag the file from wherever you downloaded it over to the My Widgets panel.

(NOTE: I tried dragging the URL directly from the browser to the My Widgets panel and my client hung -- beware. It's safer to download the file and do it locally.)


You should be prompted to install the ReCon Sidebar Plugin. Follow the prompts to install. You will be asked to restart the Notes client when you're done. If you are not prompted for an install, check the proxy settings in your Location document to make sure your Notes client can access the Internet, and also ask your Administrator if they have locked down the installation of Widgets and plugins.


---
version 1.0
copyright 2009, Strategic Net Applications (http://www.snapps.com)

Permission is hereby granted, free of charge, to any person obtaining a copy of this software and associated documentation files (the "Software"), to deal in the Software without restriction, including without limitation the rights to use, copy, publish, and/or distribute copies of the Software, and to permit persons to whom the Software is furnished to do so, subject to the following conditions:

The above copyright notice and this permission notice shall be included in all copies or substantial portions of the Software.

THE SOFTWARE IS PROVIDED "AS IS", WITHOUT WARRANTY OF ANY KIND, EXPRESS OR IMPLIED, INCLUDING BUT NOT LIMITED TO THE WARRANTIES OF MERCHANTABILITY, FITNESS FOR A PARTICULAR PURPOSE AND NONINFRINGEMENT. IN NO EVENT SHALL THE AUTHORS OR COPYRIGHT HOLDERS BE LIABLE FOR ANY CLAIM, DAMAGES OR OTHER LIABILITY, WHETHER IN AN ACTION OF CONTRACT, TORT OR OTHERWISE, ARISING FROM, OUT OF OR IN CONNECTION WITH THE SOFTWARE OR THE USE OR OTHER DEALINGS IN THE SOFTWARE.